The right organic shampoo is just as essential as a great lipstick. Whether your hair is dry, coloured, oily or frizzy, it's important to use a shampoo specifically formulated for your hair type or the look you want to achieve. Organic and natural shampoos offer a multitude of benefits due to the supernatural powers of herbal extracts, natural minerals and essential oils that are guaranteed to revitalize your hair.
Increasing research has shown that the ingredients contained in our everyday hair products are causing a lifetime of distress for our tresses. Many mainstream shampoos and conditioners often contain harmful petroleum-based polymers, silicones and synthetic chemicals that strip our hair of its natural oils, leaving it increasingly dry and damaged over time.
A-list stars like Emma Watson, Jessica Alba, and Rosie Huntington-Whitely have already made the move to using organic shampoos, so if you're moving towards a healthier, more sustainable lifestyle, discover the top ten organic shampoos and prepare for gorgeous, luminous locks Rapunzel would be proud of!
John Masters Organics – Honey & Hibiscus Hair Reconstructing Shampoo
Made with 10 certified-organic ingredients, John Masters Organics Honey & Hibiscus Hair Reconstructing Shampoo is a renowned daily shampoo for dry, damaged, colour-treated or permed hair. Honey and hibiscus extracts moisturize the hair with nourishing nutrients and provide an uplifting scent while linolenic and hyaluronic acids (a powerful duo that are found in abundance in young hair) strengthen damaged hair with each wash.
Honey & Hibiscus Hair Reconstructing Shampoo – £26.00
Lavender and Avocado Intensive Conditioner – £22.00
Biolage R.A.W. – Recover Shampoo
Specifically developed to care for damaged and sensitised locks, this shampoo, enriched with Yucca and Goji Berry extracts, helps restore shine to your hair and leaves it feeling replenished and healthy. Goji berry fruit extracts are rich in 20 amino acids and Yucca is known to contain saponins, which aids in foaming and gentle washing, making these two natural ingredients perfect for pampering stressed and dry hair.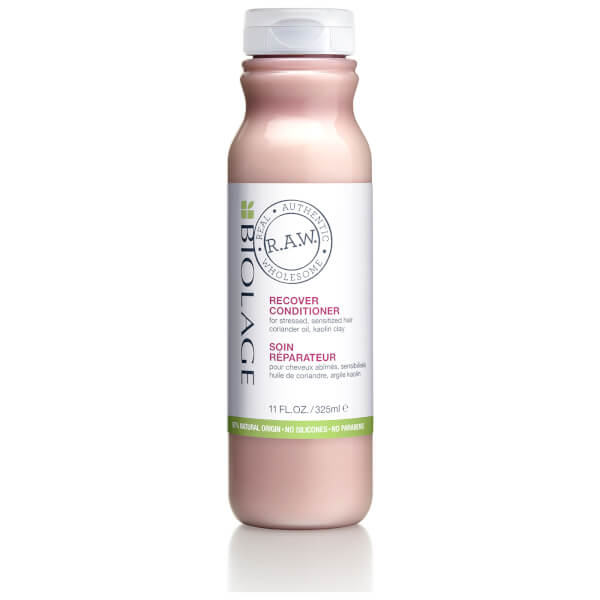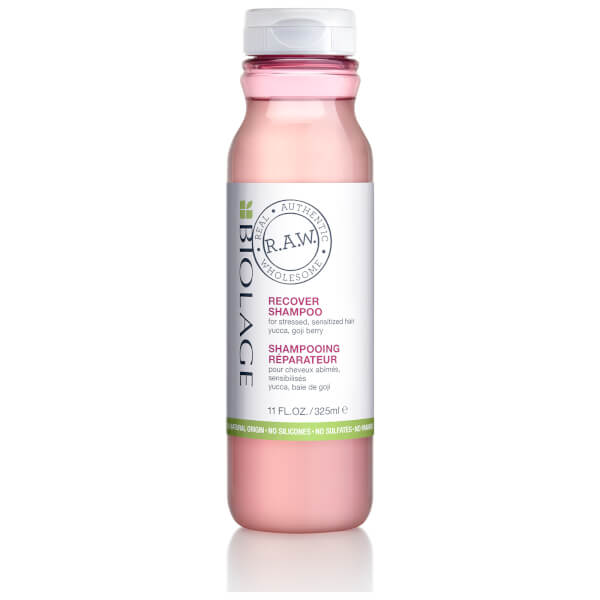 Recover Shampoo – £14.63
Recover Conditioner – £14.63
Madara Organic – Gloss and Vibrancy Shampoo
Madara Organic is a Latvian certified organic cosmetics company whose herbs for their products are grown in the Baltic region in Europe. This shine-enhancing organic shampoo gently cleanses, protects and boosts volume. The main active ingredients are the Damask rose which provides healing benefits for the scalp, Birch leaf extract, well known for its powers to fight hair loss and cranberry which helps to combat dandruff. Use the Gloss and Vibrancy Shampoo for stronger and silkier hair, infused with a natural gloss.
Gloss and Vibrancy Shampoo – £13.50
Gloss and Vibrancy Conditioner- £13.50
Tabitha James Kraan – Amber Rose Hair Cleanser & 4-in-1 Conditioner
Correct cleansing is the foundation of any good hair care routine. As an alternative to shampoo, the Amber Rose Hair Cleanser will restore hair and scalp health. With certified organic rosehip oil, argan oil, coconut oil and essential oils of neroli, tangerine, bergamot, and myrrh, the cleaner calms excessive oil production and has anti-inflammatory and anti-fungal. The 4-in-1 multi-usage conditioner has been designed to be layered, acting as a traditional conditioner, a nourishing scalp cream, a leave-in conditioner, and a high-performance styling tool.
Amber Rose Combo– £39.00
Intelligent Nutrients Harmonic shampoo
Awaken your senses and your hair with the minty fresh Harmonic shampoo. The build-up of silicone and synthetic residue from other product lines on your hair and scalp can harden the hair and cause hair loss. This invigorating shampoo, with its gentle sulfate-free formula, rids hair of build-up as it cleanses to open follicles for optimum growth and movement. A truly indulgent wash, Harmonic Shampoo is a wonderful option for those looking to volumize hair that is fine and flyaway.
Harmonic Shampoo– £19.00
Harmonic Conditioner Environmental – £43.00
Green People – Daily Aloe Shampoo
A little goes a long way! As well as lasting about 3 times as long as most shampoos, Daily Aloe Shampoo is made with aloe vera which moisturizes, soothes and repairs damaged scalps. Aloe Vera has innumerable benefits- from reducing dandruff and scalp irritation to promoting hair growth. This shampoo is ideal for all hair types and is suitable for people who may be prone to eczema and psoriasis.
Daily Aloe Shampoo– £12.50
Daily Aloe Conditioner – £12.50
Odylique – Tea Tree & Herb Shampoo
Tea Tree & Herb Shampoo is a natural clarifying shampoo for fine or greasy hair that will leave your hair soft and shiny with natural vitality. Made with Organic Coconut Oil, herbs and antifungal, antibacterial Organic Tea Tree Oil, it also contains a mild cleansing agent made from corn sugar as well as plant-derived conditioners, which means that many people feel they do not need a separate conditioner as well.
Tea Tree & Herb Shampoo – £12.00
Desert Essence – Coconut Shampoo
Provides intense moisture to dry or over-processed hair and restores your hair's natural lustre. Coconut Oil, which is rich in anti-oxidants, prevents hair breakage and split ends, and organic Jojoba and Olive oil acts as a moisturizer and leaves your hair soft and silky without weighing it down.
Coconut Shampoo – £10.00
Coconut conditioner – £9.99
Neil's Yard Remedies- Revitalising Orange Flower Shampoo
For use on normal hair, this revitalising organic shampoo restores natural shine to your hair. The nutrient-rich blend of moringa, camellia, passion flower, and neroli nourishes and cleanses your hair and scalp and helps protect it against urban pollutants. Neil's Yard Remedies organic shampoos all have a natural low lathering foam to avoid stripping away the hair's natural oils.
Revitalising Orange Flower Shampoo – £11.50
Revitalising Orange Flower Conditioner – £11.50
Rahua- Colour-Full Shampoo
A colour-preserving shampoo formulated from pure plant-derived and fortifying Amazonian ingredients. Infused with gardenia and lavender essences, this rich and creamy shampoo is made to protect and enhance your colour investment by encapsulating each strand of hair with the power of rahua, morete, and flaxseed oils. Prevent fading and experience gorgeous colour with vibrant long-lasting results!
Rahua Colour-Full Shampoo– £36.00
Rahua Colour-Full Conditioner – £38.00
Written by Sonam Nundoochan and Edited by Alison Jane Reid.
Love Our Organic Health and Beauty Lifestyle Editorials? Check out this feature – Organic Beauty, Art, and the Warrior Goddess